ID: 2-051 5/3 Gagarinskoe Plato/Arcadia
Rooms: 2  Bedrooms: 2  Beds: 2+2+2
250$ per night in June-August

ID: 3-041 5/3 Gagarinskoe Plato/Arcadia
Rooms: 3  Bedrooms: 2  Beds: 2+2
120$ per night in September-May
220$ per night in June
250$ per night in July-August

ID: 4-002 8 Chajkovskogo Lane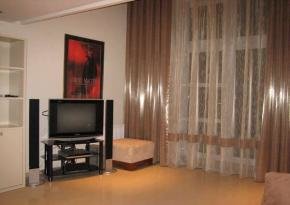 Rooms: 4  Bedrooms: 3  Beds: 2+2+2
150$ per night in October-April
180$ per night in May&September
200$ per night in June-August


Odessa Apartments 24 Preobrazhenskaya Street/City Garden
ID: 1-014
Address: 24 Preobrazhenskaya Street/City Garden
Floor: 1
Number of rooms: 1
Number of bedrooms: 1
Number of beds: 2+2
NON SMOKING APARTMENT. Nice and cozy studio, 2 minutes walking from Deribasovskaya Street in a quiet courtyard. Separate entrance to the apartment, renovated building. Everything in the apartment is new and of a good quality. There are 3 areas: a bedroom area with a king size bed, a closet, a living area with a comfortable fold out coach, an LCD Satellite TV, DVD, High Speed Internet, and a dining area with kitchen furniture, a table made of glass and 4 chairs. You'll find all the stuff for cooking in the kitchen. The spacious bathroom is equipped with a shower cabin. The apartment has autonomous heating system, very good water pressure. You'll also find there such things like bathrobes, an umbrella, a shoes kit. Parking is available in the courtyard. Maximum sleeps 4 guests.




Walking distances

"2 mn the main street (Deribasovskaya)

"5 mn the Opera House

"5 mn the Potemkin Steps

"5 mn Primorskiy Boulevard

"30 mn beach

Features

"Apartments 1-037, 1-018, 2-006, 3-005 are in the same building

"42 m2

"Safe box

"Telephone is for local calls only

"Hot/cold water 24h
Apartment location map:


All apartments in this building
All close apartments
Preliminary reservation form
* required fields

On-line payment
Pay by Visa/Mastercard
If you need more variants of accommodation at 24 Preobrazhenskaya Street/City Garden see the list of modern, stylish Apartments in Odessa from $ with very beuatiful new furniture and consumer electronics!